Contact: DrivingEastEnt@gmail.com 
Public Relations: Millie Wiggs 
HotOffThePRESS@icloud.com 
FOR IMMEDIATE RELEASE 
July 28th, 2022 
Celeste Kellogg 
Country Singer aka international artist featured performer at Dickenson County Fair along with TG Sheppard, Nathan Stanley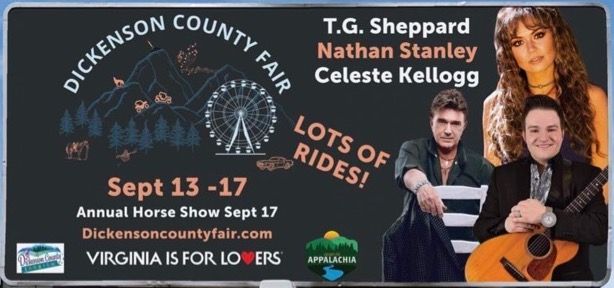 As you cross over the Virginia border into Kentucky (or visa versa) make sure you catch the huge billboard that features our own Celeste Kellogg along with T.G. Sheppard and Nathan Stanley for the 2022 Dickenson County Fair. The fair spans September 13-17 at Haysi Kiwanis Fairgrounds in Haysi VA.   
   After the release of the live performance of Lady Down on Love  at her recent appearance at the Old Dominion Barn Dance at the beacon Theater in Hopewell VA, fans everywhere are asking her to record it.  The Mullins Sisters who were her background vocals on the song added they 'second that idea'! 
   Stay tuned. 
   Celeste is now in Partnership with Breedlove Guitars and on their website as one of their featured artists. Breedlove Artist Page. Celeste loves her Breedlove guitar. We are all very excited about this new venture. 
   Call her Country singer, songwriter, actress and now international artist. Her music has been streamed in over 75 countries in the past month. The top ten include: US, Brazil, Canada, Mexico, United Kingdom, Australia, Germany, Italy, Sweden and Noway. 
   Out of the US Markets the Top 10  cities that have downloaded her music include: Denver CO, Virginia Beach VA, San Francisco CA, Allentown PA, Augusta GA, Fort Meyer FL, Chicago IL, Columbia TN, College Station TX and Dallas TX. 
     For 'Celeste Originals' visit:   "Celeste Originals" 
     You can check out more LIVE performance dates here:  Celeste Kellogg Calendar 
  And the beat goes on ... 
*For more info and tour schedule go to CelesteKellogg.com 
Celeste is available for interviews upon request 
—30—